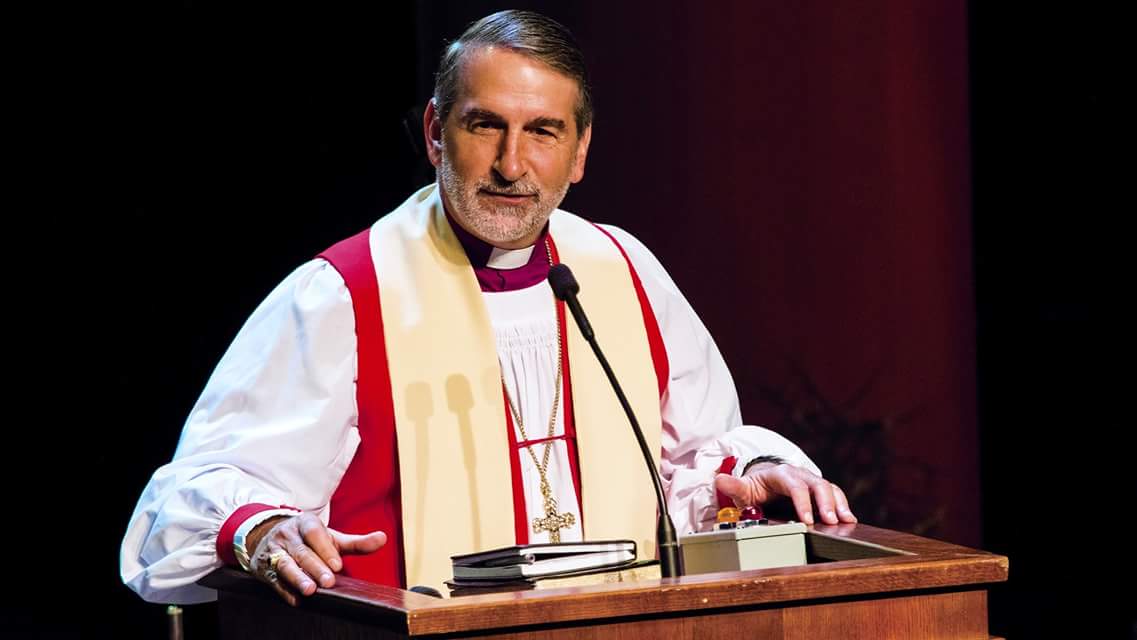 MESSAGE SUMMARY:
The Interior Life – Part 5: The Conscience (Holy Trinity; Madison, MS)
INTRODUCTION TO THE INTERIOR LIFE -- The Psalmist, in Psalms 1:3-4, describes a person with a fruitful Interior Life: "He is like a tree planted by streams of water that yields its fruit in its season, and its leaf does not wither. In all that he does, he prospers. The wicked are not so, but are like chaff that the wind drives away.". Our Interior Life, typically, does not call out for our attention until, usually, it is too late. Our Interior Life does not call for our attention or scream for help. However, if our Interior Life is not maintained or nurtured, our spiritual life can come crashing down.
Our Interior Life can be viewed like a savings account in a bank. Like a savings account when we make deposits, our Interior Life grows, draws interest, and becomes strong, thereby, giving us a balance that can see us through life's tough times. However, if we are not making Interior Life deposits and our life circumstances need to draw on our "savings", we may find that life has put us in an untenable situation; and we go spiritually bankrupt. Our Inner Person, or Our Inner Self, is all that relates to our soul and spirit. The Interior Life is critical for our abundant life – the part of us that is private not public; the part of us that no one sees or knows but us and God.
EXERCISING YOUR CONSCIENCE AS A PART OF YOUR INTERIOR LIFE -- We need to focus, today, on a portion of our Inner Self's soul that includes "our conscience" – "the power of our mind".  Our conscience is that part of our soul that brings our hearts and minds into knowledge of God's requirements and expectations for living a Godly life. In 1 Timothy 1:5, the conscience is related to love: "The aim of our charge is love that issues from a pure heart and a good conscience and a sincere faith.". Do we have a clear conscience before the Lord?
As an example of "conscience in the Inner Life", King David was a righteous man that gave God credit for all His successes; but David, like us, was a sinner. He lusted after the beautiful wife of one of his generals. After David got the general's wife pregnant, David's sins, like most of ours, cascaded into the murder of his general to protect his secret affair with the general's wife. Subsequently, David's conscience rose to the top of his Inner Self in Psalms 51. While David confessed and repented of his sins to God, David was forgiven by God; but the consequence of David's sins was enormous – David's family and kingdom were disrupted; and his son, born of the adulterous affair, died.
There are three aspects of our conscience: 1) the part of our person that knows right and wrong within ourselves – our moral compass; 2) as Christians, our conscience becomes God's moral compass within us; and 3) a reminder that we have sinned against God or our neighbor. The Holy Spirit deals with conscience first and not our intellect or emotion.
What happens when we ignore our conscience: 1) we begin to dumb down the power of our conscience to speak into our lives; 2) even though our conscience speaks to us all the time, we begin not to hear it; and 3) our conscience becomes polluted by the world – a defiled conscience. Ignoring our conscience leads us towards self-deception and depravity.
How do we keep a clear conscience: 1) confess our sin to God as instructed in Hebrews 10:22-23: "Let us draw near with a true heart in full assurance of faith, with our hearts sprinkled clean from an evil conscience and our bodies washed with pure water. Let us hold fast the confession of our hope without wavering, for He who promised is faithful.", and in 1 John 1:9-10: "We confess our sins, He is faithful and just to forgive us our sins and to cleanse us from all unrighteousness. If we say we have not sinned, we make Him a liar, and His word is not in us."; 2) make a confession of our sin to a Christian friend; 3) sometimes, confess our sin to a minister; and 4) sometimes, we need to make restitution to those to whom we have sinned, when appropriate.
Our conscience is a mighty gift to us from God if we listen to it and keep a clear conscience. However, we will never have a clear conscience in our Interior Life unless we, like King David, confess and repent of our sins to God and lead a new life in Jesus.
TODAY'S AFFIRMATION: I affirm that because of what God has done for me in His Son, Jesus, I AM RIGHTEOUS IN GOD'S EYES. God made Him who had no sin to be sin for us, so that in Him we might become the righteousness of God. (2 Corinthians 5:21).
SCRIPTURE REFERENCE (ESV): Psalms 51:1-19; 1 Thessalonians 5:23; Ephesians 2:1-8; 1 Timothy 1:5-6; Job 27:6; Acts 24:16; 2 Corinthians 1:12; Matthew 6:22-23; 1 Corinthians 8:7; 1 Timothy 4:1-2; Titus 1:15-16; Psalms 36:1-4; Hebrews 10:22; 1 John 1:9; Romans 8:1-2; James 5:16; Proverbs 27:17; 2 Samuel 12:13; Luke 19:8; 2 Timothy 1:3.
SCRIPTURE REFERENCE SEARCH: www.AWFTL.org/bible-search/
A WORD FROM THE LORD WEBSITE: www.AWFTL.org.
DONATE TO AWFTL: https://mygiving.secure.force.com/GXDonateNow?id=a0Ui000000DglsqEAB